Luxury Sailing Yacht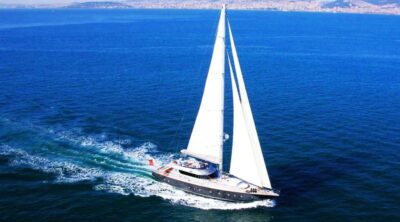 Luxury Sailing Yacht
Some holidaymakers have a tendency to cruise in the Mediterranean on board a luxury sailing yacht charter. In fact, there is something very special about this! You will be pushed by the gentle breeze of the Mediterranean until you reach your destination!
Cruising in the Turkish Mediterranean on board your luxury sailing yacht charter is unique! You will not be bothered by the sound of the engines! You do not need also to bother about the cost of the fuel! You can invite your family to share such a wonderful trip in the wavy Mediterranean that opens arms at this time of the year to receive tourists who are devotees of the blue waters. You can share with your friends the expenses as well and choose a luxury sailing yacht charter.
Turkish Riviera has been an important destination for millions of tourists who come every year to Turkey to enjoy her beautiful scenery while cruising on board a sailing yacht charter on the best coasts ever found in the marine world. If you are interested in having one week charter on board one of our luxury sailing yacht charter, then you have made the right decision! Our professional captains have prepared your itinerary to cruise in the wonderful bays of the Mediterranean.
Our agents can respond to your inquiries about your luxury sailing yacht charter in the Turkish Riviera once received. Our portfolio has hundreds of options that you might choose one out of them for your next cruising in the Mediterranean.